The concept of "factorization"
takes into account essential skills
required by athletes,
and creates training menus catering
to their needs.
When Yoshitake was a child, he was not particularly a prodigy in the world of athleticism. However, during his junior high school days, he set a new prefectural junior high school record of the 400-meter dash in track-and-field, which was a sport new to Japanese schools at that time.
Yoshitake enrolled into a local high school where a famous athletic coach had just transferred to. After three years of working closely with this coach, Yoshitake learnt proper training processes and methods, and eventually developed ways to help inexperienced athletes excel in national athletic competitions.. The training routine aimed to cultivate everyday habits of: sleeping and waking early, morning practice, and journal writing. As the team captain, Yoshitake had the experience of creating a practice schedule and building a strong team from scratch.
Thirty one students, who were regarded as Japan's star athletes at that time, were admitted to the track and field club at Nippon Sports Science University. While some of them improved their records, a few others experienced a slump. It is difficult for athletes who do not cultivate good lifestyle habits and train without a sense of purpose to become successful. At the same time, it is also possible for amateurs to improve their abilities exponentially. Human possibilities are infinite.
In his first year of univeristy, Yoshitake became a section leader for the school's sprint team, which had more than 200 club members, and learned about the concept of "factorization" found in athlete's training schedules from his National Track and Field coach.
It breaks down the 100 m dash into several components—Starting ability, Acceleration, and Maintaining speed—and then develops a practice lineup for each element. This entire concept enlightened Yoshitake and became the basis of his accomplishments in athletic training. He not only developed his own training menu, but also successfully applied it to the specific characteristics, strengths and needs of his athletes.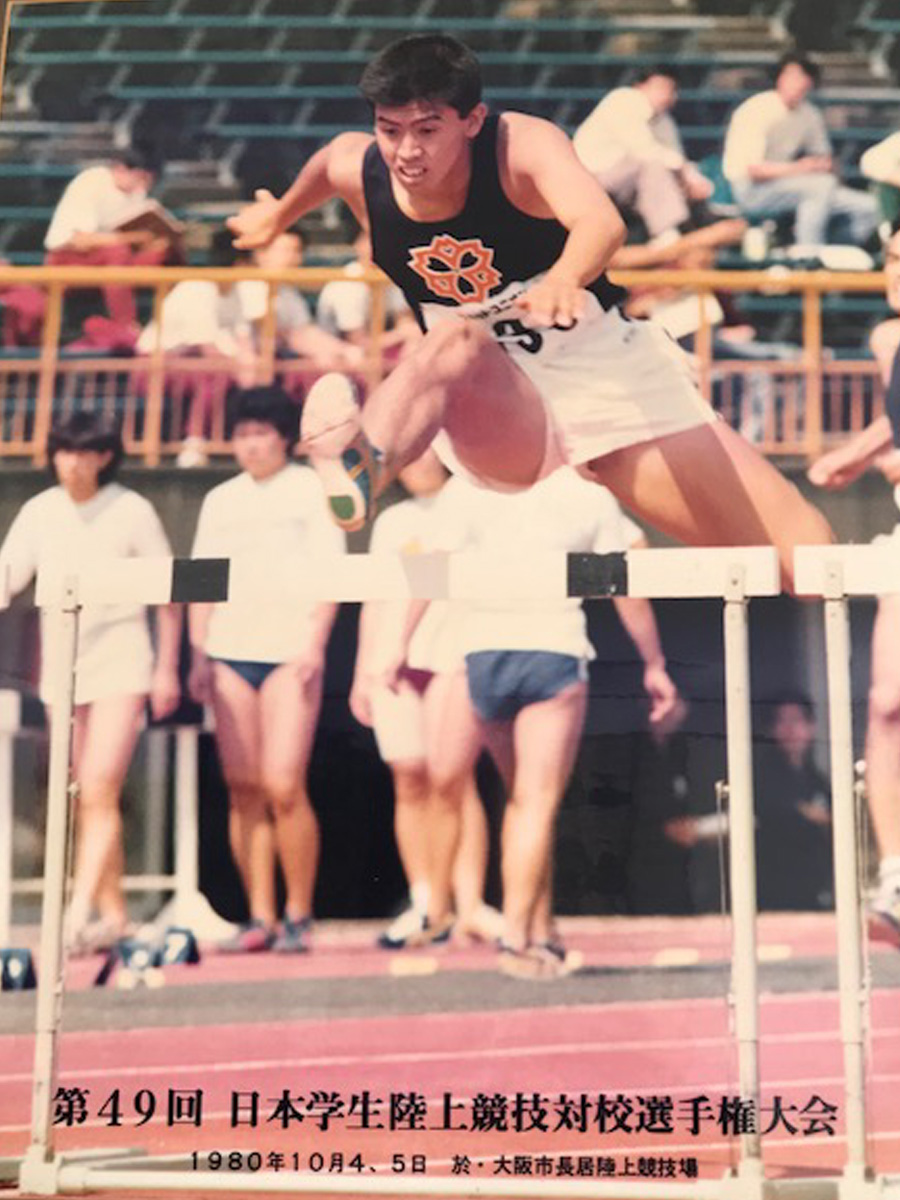 As a Head Coach
HEAD
COACH
Yoshitake built a team from scratch
and led them to victory
at the National championship.
Yoshitake aspired to become the track and field coach of the high school where he taught physical education at but failed the Japanese Teaching Staff Examination in the first year. He spent another year preparing for the examination and was enlisted as a teacher at a school for special needs education. Yoshitake applied the concept of factorization, which he had learned when he was a university student, to impart his students with skills that help develop their capabilities, independence, and social interactivity.. His educational philosophies led to the establishment of the first national ski-training program for students at selected schools.
Four years later,, Yoshitake transferred to an ordinary high school. There, many students faced academic and life problems, andthe school grounds had not been well-maintained, which made it difficult to conduct athletic or sporting activities.
Under such circumstances,, Yoshitake declared to the students, "You don't need to run. Just do "throws" and recruited students who wanted to join his track and field club. As Yoshitake realized it would be challenging to claim victory in track-and-field events that most students normally begin training for in junior high school, he focused on training his team for niche events, such as the Javelin throw, Discus throw, Hammer throw, and Race walk. Following a period of training and practice, one of the female members won a prize at the prefectural freshmen athletic meet in autumn that year; and four other team members received awards the following year. Three years after the club was established, it grew to a strength of 70 members. In the fourth year, a club member accomplished a great feat by winning a prize at the Japan National High School Championships.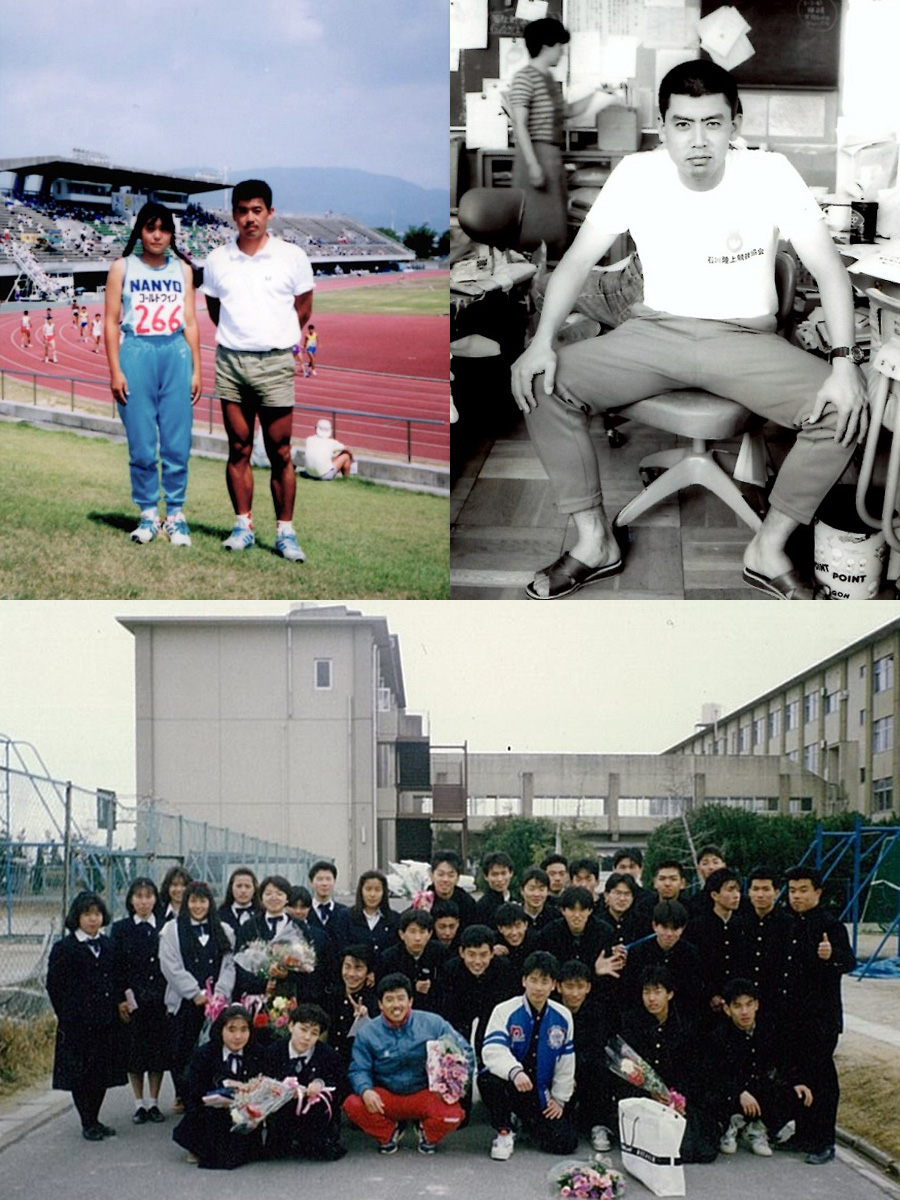 Like a craftsman,
Yoshitake has been learning
to create and build up
his organization as a manager.
Right after Yoshitake quit his job as a teacher and started his own business, he faced several difficulties in the field of management.The rules and goals of sports are definitive; however, life and business are not as straightforward. Yoshitake read a large number of business books, and realized he lacked wisdom and knowledge. While Yoshitake was debt-ridden, he took the opportunity to invent the "Stretch Pole".
Using his own athletic experience as a reference, the "Stretch Pole" was designed to help alleviate muscle tension and condition the body for fitness training. As such, he believed that the product would be a huge success and began its sales on a trial basis. He handed out his product to a teacher, who helped him promote it to other fellow teachers through word-of-mouth. Subsequently, a seminar for the Japan's healthcare industry leaders was called for. Yoshitake felt that the product, which is catered for health and fitness, needed to maintain its popularity, lest its sales might decrease after its hype subsides. Through marketing strategies, "Stretch Pole" gained prominence, and the Japan Core Conditioning Association was hereby established, catering to more than 90,000 seminar attendees and participants. The Japan Core Conditioning Association has been established since then, and more than 90,000 members have attended the seminars so far. At present, Yoshitake holds workshops 5,000 times a year around Japan (as of January 2018).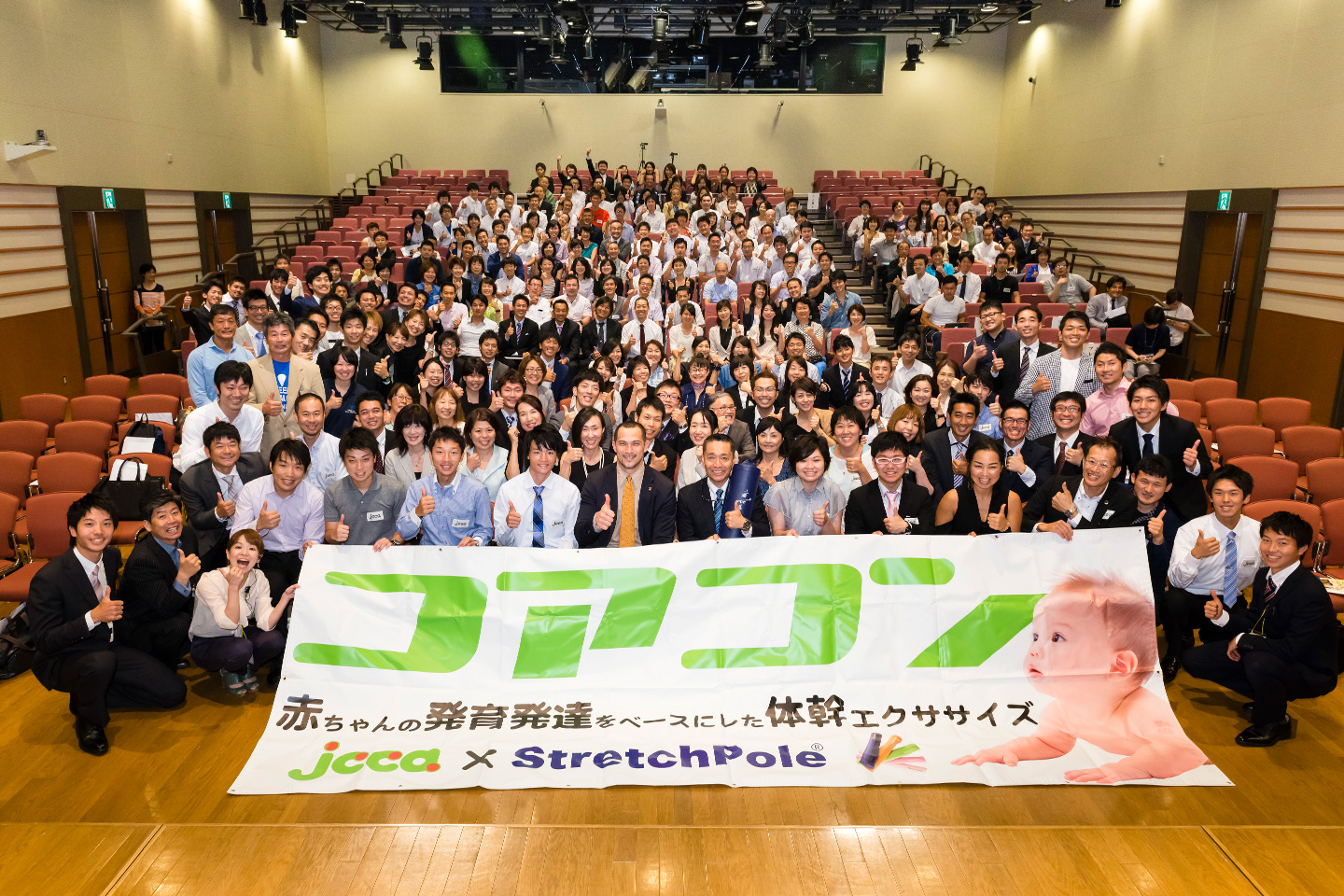 As a Mission Trainer
MISSION
TRAINER
Building people up,
to live by their passion and prowess.
Yoshitake was actively concerned that the "Stretch Pole" might not be economically-sustainable in the long run, he was considered retiring early, nine years after his company had been established. He was looking for a role model whom he could seek advice from and was introduced to a woman, Rika-san, who would visit Las Vegas for two months every year. Yoshitake flew to Las Vegas to meet her, and she later became his business partner and fellow Mission Trainer. He believed that working with her would assist him in fulfilling his passion of enriching and empowering others. Since then, Yoshitake began coaching and began others. One of the individuals he coached was a salesperson from a life insurance company, whom he counselled and helped succeed in his field of work. It is truly amazing how much a person, who has discovered their own interests and strengths, can grow. It became clear to Yoshitake that his life mission was to mentor, affirm, and encourage aspiring individuals who are facing struggles in their journey to success.